There's a story behind every Emerging Leader. Amitava Banerjee, a member of the 2014 cohort, looks back at what led him to become an Emerging Leader.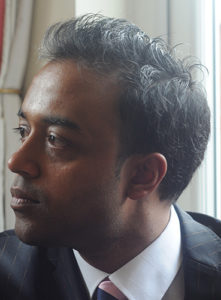 What motivated you to enter the field of medicine?
Amitava: I grew up seeing my father working as a busy, inner city primary care practitioner in the North-East of England, and despite his difficulties I saw the difference his work made to individuals and communities. We went to India every summer to visit my extended family during my childhood. Without realising, both of these things meant that I began to appreciate the importance of public health, the right to healthcare, and how health and wealth might be related quite early on in my life.
What motivated you and what were the challenges to becoming a doctor?
Amitava: I believe every potential doctor is motivated by three things and I was no different.
First, the subject matter has to excite you. I found so much interesting at medical school and in many ways, the biggest challenge was to narrow myself down to one specialty or one area of research. Cardiology appealed because as well as the great advances in treatment and prevention of the last 50 years, I had several excellent role models who showed me that it was possible to be both a passionate clinician and a pragmatic researcher.
Second, great teachers and mentors pave the way. I have been more than lucky in having inspirational teachers throughout my training. Two of the many stand out for me. Professor Bernard Lown, my mentor during my Masters in Public Health at Harvard, showed me that the artificial divisions between public health and clinical practice, or treatment and prevention must be bridged if we are to practice holistic medicine. Professor Peter Rothwell, my PhD supervisor at Oxford, taught me that we should focus on applying what we already know as much as seeking new knowledge.
Third and most importantly, I am motivated, like the vast majority of doctors, by the potential to make people better whether treatment or prevention, which is the greatest privilege.
How did you come across the Emerging Leaders Programme?
Amitava: I heard about the Emerging Leaders Programme from colleagues in the field of global cardiovascular health. As a clinician scientist trying to carve out a path in global cardiovascular prevention, and to increase my networks of like-minded people from clinical, scientific and policy spheres, the program ticked all the boxes for me. In addition, the chance to take part in real, funded global health projects was a huge bonus.
What did you enjoy most about the Programme?
Amitava: The range of faculty from around the world, including stellar academics such as Professor Martin McKee and Professor Dorairaj Prabhakaran, was inspiring and there was plenty of time during the seminars to have detailed discussions. However, I have benefited as much from the peer mentorship which the community of Emerging Leaders across cohorts provides. This has resulted in my involvement in guideline committees as well as academic outputs.
Every year, the EL Programme grows into a wider and stronger network of future champions for global cardiovascular health. If you are in the clinical, science or policy arena and making inroads into the global burden of cardiovascular disease is your thing, then definitely apply for the WHF EL Programme!