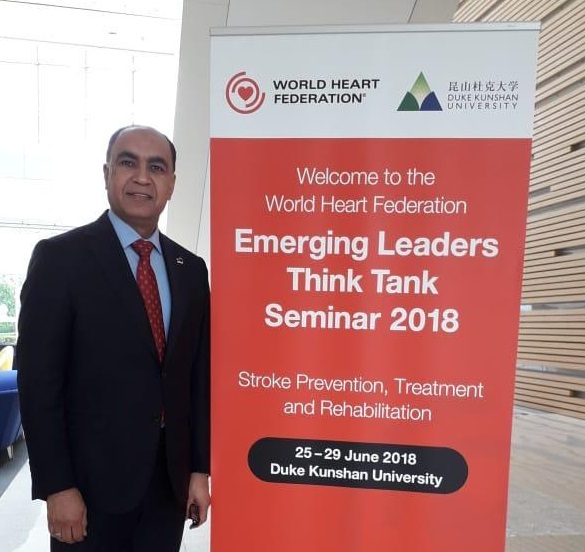 What led to your interest in medicine?
Hasan: My passion to help people and reduce their suffering was the main reason for my interest in medicine.
Who or what motivated you?
Hasan: My father was the motivator who supported me to be the first doctor in the family.
What were the challenges you've been through to becoming a doctor?
Hasan: In 1983, I started my study at the Baghdad Medical School. Iraq was undergoing difficult situation because of the war, it was really a challenge to focus on study while seeing my country suffering during this period. Finally, 1989 was the year of victory of both my country and my graduation with the first rank. I started to work as an intern in the Medical City; the main and largest medical institution in Iraq, the place of my interest. Then I worked and studied hard to get the specialty in cardiology and the master in medical education as I'm interesting in the academic field, therefore, I worked in the College of Medicine, and finally became the Chairman of Iraqi Scientific Council of Cardiology in 2013.
How did you come across the EL program and what made you think it was relevant for you to apply?
Hasan: After achieving my dreams in my country, I wanted to complete my mission globally by improving the health standard especially in with low income countries. During ESC Congress 2017 in Barcelona, I told Prof Karen Sliwa about my passion and she encouraged me to apply for the next EL programme focusing on stroke; this was the missing key in my humanitarian and scientific journey, through which I can help more patients and improve my research experience. Moreover, the motivator for enrolling me in EL programme was my friend, the youngest (40-year-old) and famous cardiologist Dr Mohammed Al-Rubaie who died because of stoke – his death was so painful to me, for his sake I decided to share in reducing the burden of stroke.
Who among the faculty you met inspired you the most and what did you enjoy most about the programme?
Hasan: Both, Mark Huffman and Lijing Yan, inspired me during this great journey and the most enjoyable parts in this seminar were making new friends from different countries, thinking together to draw a map for reducing the burden of stroke and visiting the beautiful China – the place where the meeting of think tank took place.
After completing the programme, I began thinking in a new manner, empowering local emerging leaders and encouraging mentees – like Israa Fadhil Yaseen – to enroll in this programme.
I consider EL programme as one of the precious milestones in my life. I advise every one who loves to help people, learn more about applied researches, experience new modality of thinking, to apply for in WHF Salim Yusuf EL programme and I highly recommend it for every one who believes that he/she has a commitment to reduce the burden of CVD in the world.