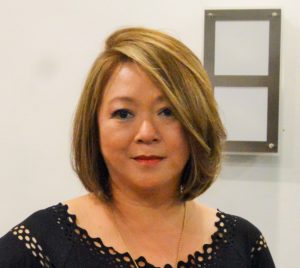 What motivated you to enter the field of medicine?
Marie : I embarked on medical studies because of my perception as a youth that our human body works perfectly and there is need to prevent disorders to maintain its work as far as it can go. Today I am an academic staff involved in Public Health in the Department of Medicine at the University of Mauritius and in Health Promotion, with special interest in smoking cessation, at national level. I am a member of the Non-Governmental Organization VISA (short for Vie Sans tabac) which is a tobacco control advocacy group in Mauritius. I am also a member of the African Tobacco Control Alliance, based in Lomé, Togo.
Who motivated you, what were the challenges you've been through to becoming a doctor?
Marie: While I was the one who wanted to do Medicine, my Dad who migrated from China to Mauritius inspired me, my mother motivated me and I am lucky my family members always support me. The long period of my studies in France, being away from Mauritius, was the biggest challenge I had to face.
How did you come across the Emerging Leaders Programme?
Marie: I received on 09.09.15 an email from the Research Administrator of the International Tobacco Control Policy Evaluation (ITC) Project with the following message:
Applications are now open for the World Heart Federation Emerging Leaders 
program. The deadline for application is September 30th, only three weeks 
away! This edition of the program will focus on tobacco control …
Being an academic with teaching, research and community service in tobacco control in Mauritius, I realized the need to have exposure with peers from other countries, to learn from experts in the field and to develop leadership skills through the Emerging Leaders Programme.
What did you enjoy most about the Programme?
Marie: The communication means, including the WHF Emerging Leaders introductory conference call, the sense of hospitality and the professional spirit of the organizing team were amazing. The multi-disciplinary aspect of the participants from various countries in the think-tank seminar made the event enriching for each one of us, with participation in a shared collaborative grant proposal with other Emerging Leaders in the field of tobacco control. The most important aspect was the knowledge transmission from the mentors: Eduardo Bianco, Mark Huffman, Darwin Labarthe, David Wood, Denis Xavier and Salim Yusuf and many more.
How the Emerging Leaders Programme changed your life?
Marie: Today more than ever I am committed to health behaviors and to health promotion. I belong to the family of Emerging Leaders: we meet at the World Cardiology Congress to learn and share. I have more conviction to contribute to the work of the World Heart Federation to reduce premature mortality from non-communicable chronic disease. My current project is to collaborate with the Mauritius Heart Foundation to launch the Go Red For Women programme in Mauritius and to develop a local network for the prevention of cardiovascular diseases.