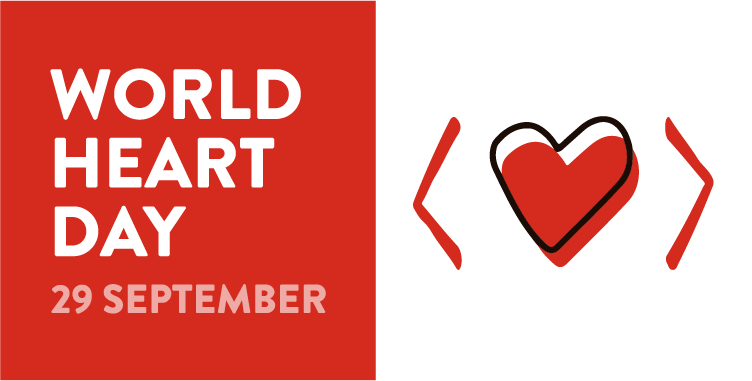 World Heart Day takes place on 29th September every year and is the World Heart Federation's and the world's biggest platform for raising awareness about cardiovascular disease, including heart disease and stroke.
This year, our campaign focuses on creating a global community of Heart Heroes … people from all walks of life who are acting now to live longer, better, heart-healthy lives by making a promise.
A promise to our families to cook and eat more healthily
A promise to our children to do more exercise and help them to be more active, to say no to smoking and help our loved ones to stop
A promise as a healthcare professional to help patients give up smoking and lower their cholesterol
A promise as a policymaker to support policies that promote healthy hearts
A promise as an employee to invest in heart-healthy workplaces
Our aim is to educate, inspire and motivate people to keep their hearts healthy while encouraging them to act as influencers themselves.
Download the Campaign Resources today
The campaign website features all sorts of resources to support individuals and organizations to run World Heart Day events and activities. These are available in multiple languages to view and download instantly on the Resources page. More languages and resources will be uploaded as we come closer to the date, so you are more than welcome to subscribe to receive any updates.
Pin your event
Add your event to our Worldwide Activities Map. Complete a short form specifying your contact information and the details of your event to get featured on our spinning globe. We look forward to hearing about your plans!
Illuminating the world red
In recent years more and more of the world's iconic landmarks, monuments and buildings have illuminated red in support of World Heart Day. Please help us to make this element of the campaign an even greater success by arranging for an illumination in your region, and let us know at [email protected].
Coming soon …
As the countdown to 29th September continues, even more information and resources will be launched on the World Heart Day website, including: essential toolkits featuring tips on how to use the campaign, the campaign video, infographics, factsheets and much more.
You will also be able to customize our campaign posters online, to either download and print, or share on social media.
Please visit www.worldheartday.org to find out more and subscribe for campaign updates. If you need any further support please contact [email protected].