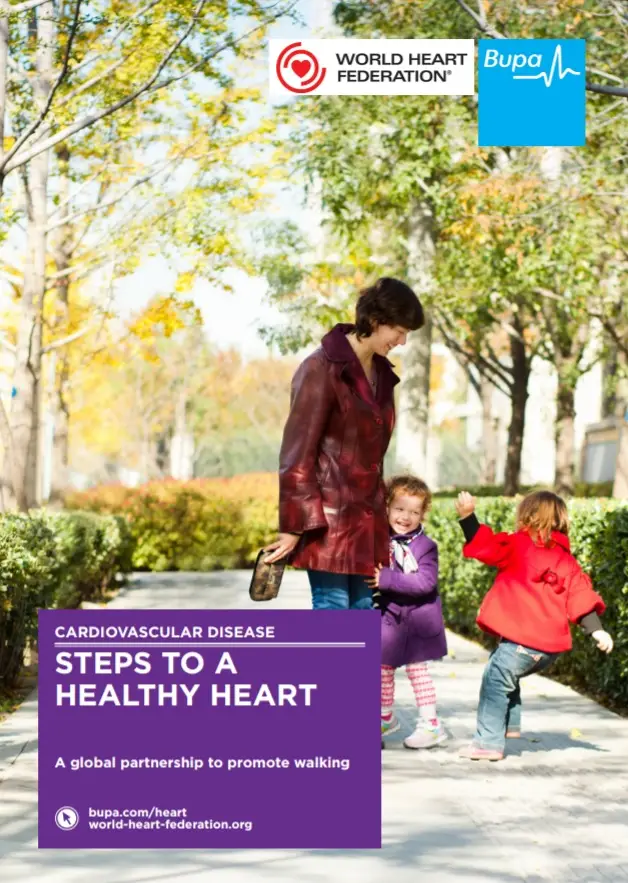 The World Heart Federation has partnered with leading international healthcare organisation Bupa to promote physical activity and heart-healthy habits using the Ground Miles app, for this World Heart Day and beyond. 
The 8 Week Walking Challenge aims to encourage people to increase their physical activity as a sustained lifestyle change, not just a one-off event. By challenging people to walk as part of a group for 150 minutes per a week for at least 8 weeks, we aim to encourage ongoing, regular physical activity, which can dramatically lower an individual's risk of cardiovascular disease (CVD). Regular exercise is also proven to improve mental health, and to lower the risk of obesity-related diseases. The Challenge will:
• Encourage individuals to do 150 minutes per week of physical activity for at least 8 weeks 
• Support people to enjoy walking and walk as part of a group (virtual or real)
• Create a 'movement for movement' that will result in sustained behaviour change by allowing individuals to measure how much they walk
• Demonstrate positive changes to heart health by increasing physical activity levels, a risk factor for cardiovascular disease
The 8 Week Walking Challenge initially aims to involve over 10,000 people across five trailblazing countries and is also being championed by targeted international organizations as the challenge is a great free and fun employee engagement and health and wellbeing campaign. All participants can download the free motivational Bupa Ground Miles app for iOS and Android phones to support them in their challenge. 
Make your steps count!
If you would like to run the 8 Week Walking Challenge and set up your own walking group, please click here to find all the information and materials you need. We have developed a bespoke version of the app for member organisations to use, which allows them to run a unique campaign, including bespoke groups, information page, badges and push notifications.
8 Week Walking Challenge app
Developed by Bupa, Ground Miles is a motivational walking app which tracks your steps and monitors the pace at which you walk, it also motivates you to walk more through groups, badges and goals, and allows you to connect with friends and stay social. The app is driven by behaviour change expertise, enabling people to be more physically active through setting personalised goals and incentivising increased walking. Ground Miles is free and easy to use app and can be used by anyone. It is available in English, Spanish, Polish and Cantonese for iOS and Android smartphones and devices and can be downloaded from the app store (www.groundmiles.com).