World Heart Day 2022 in Isfahan, Iran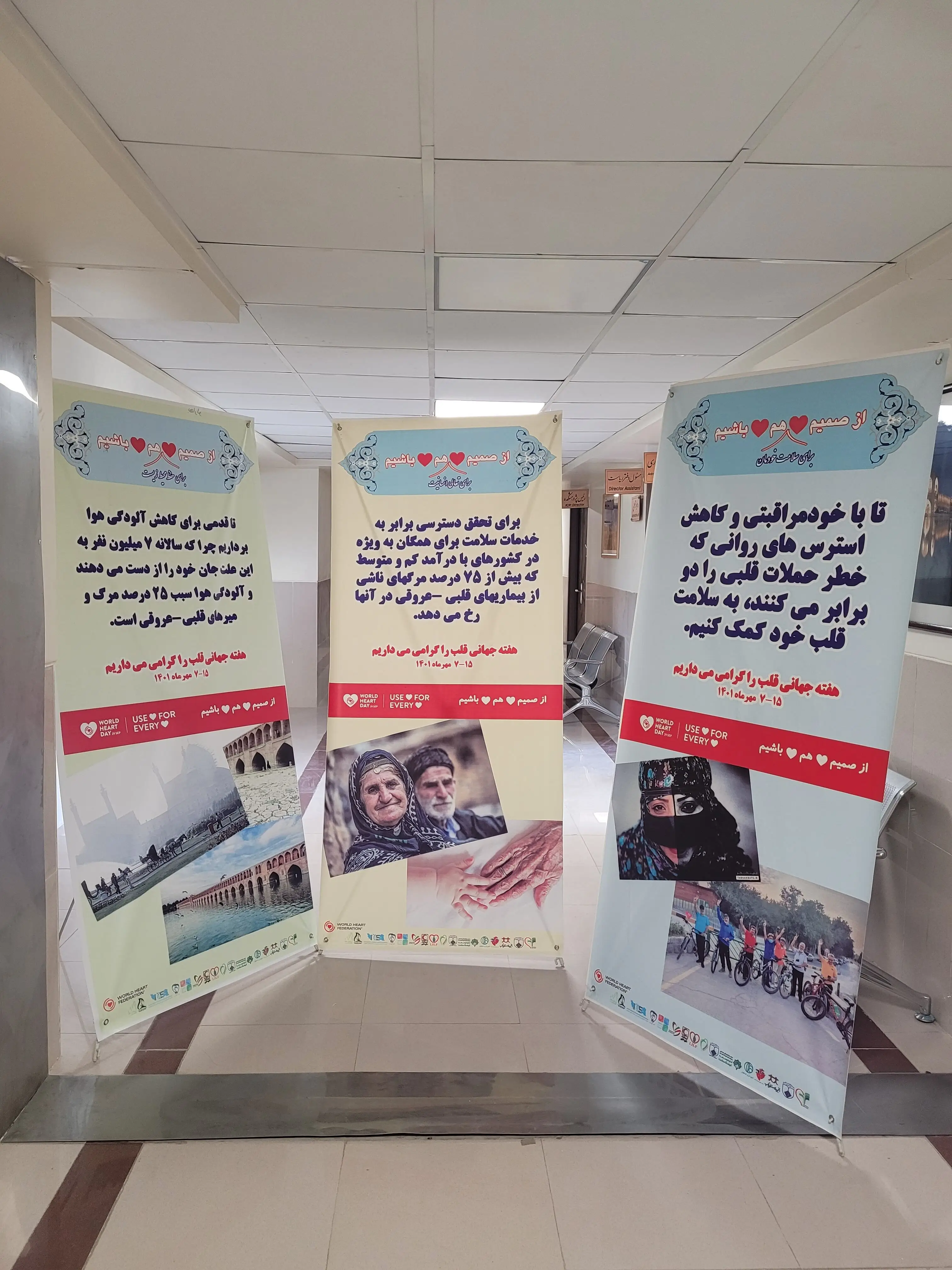 "I used ♥ to: I used my heart to promote humanity "
In the name of God
This year, as in previous years, training and activities related to the World Heart Day were held with the slogan "Use Heart for Every Heart" during a week from October 7 to October 15 under the title "Isfahan World Heart Week 2022". The focus of these programs was awareness of lifestyle modification to prevent and control cardiovascular diseases and their risk factors, saving nature and equity.
These activities were done under the supervision of Isfahan Cardiovascular Research Institute and Heart Friends Association and with the cooperation of Heart Friends Scientific Association, Isfahan University of Medical Sciences, Isfahan Municipality, Shahid Chamran Heart Hospital, Isfahan Red Crescent Society, Isfahan Zob Ahan Sports Club and Isfahan media in particular, Imna news agency.
The World Heart Week activity trainings were considered for the general public and in some cases for special groups such as children and teenagers.
Also, significant activities were done in the field of virtual networks. Among other things, IMNA news agency conducted interviews with cardiology, physical medicine, nutrition, and psychiatry specialists in Isfahan in a month before World Heart Week, and they were uploaded to the IMNA website in several sections and shared with the public. Also, a scientific panel on the theme of World Heart Week was held in the Imna news agency office with the presence of Cardiovascular Research Institute experts.
A program was also hosted by Isfahan University of Medical Sciences Public Relations with the presence of Isfahan media members for interviews and questions and answers about the World Heart Week and the prevention of cardiovascular diseases in the university, and the journalists asked the experts about their questions.
One of the World Heart Week programs this year was held in the open space of Chamran Heart Hospital in Isfahan. In this program, specialist have visited the clients and provided them with the necessary guidance. After the visit, the guests were treated with healthy products.
This year, posters, stands and informative and educational banners were prepared for information. Also, these posters were announced on virtual networks for people's awareness.
Sincerely yours: Sharareh Nazemzadeh
Public Relations Office, Office administrator, Isfahan Cardiovascular Research Institute
Isfahan-Iran