National Heart Week/World Heart Day 2022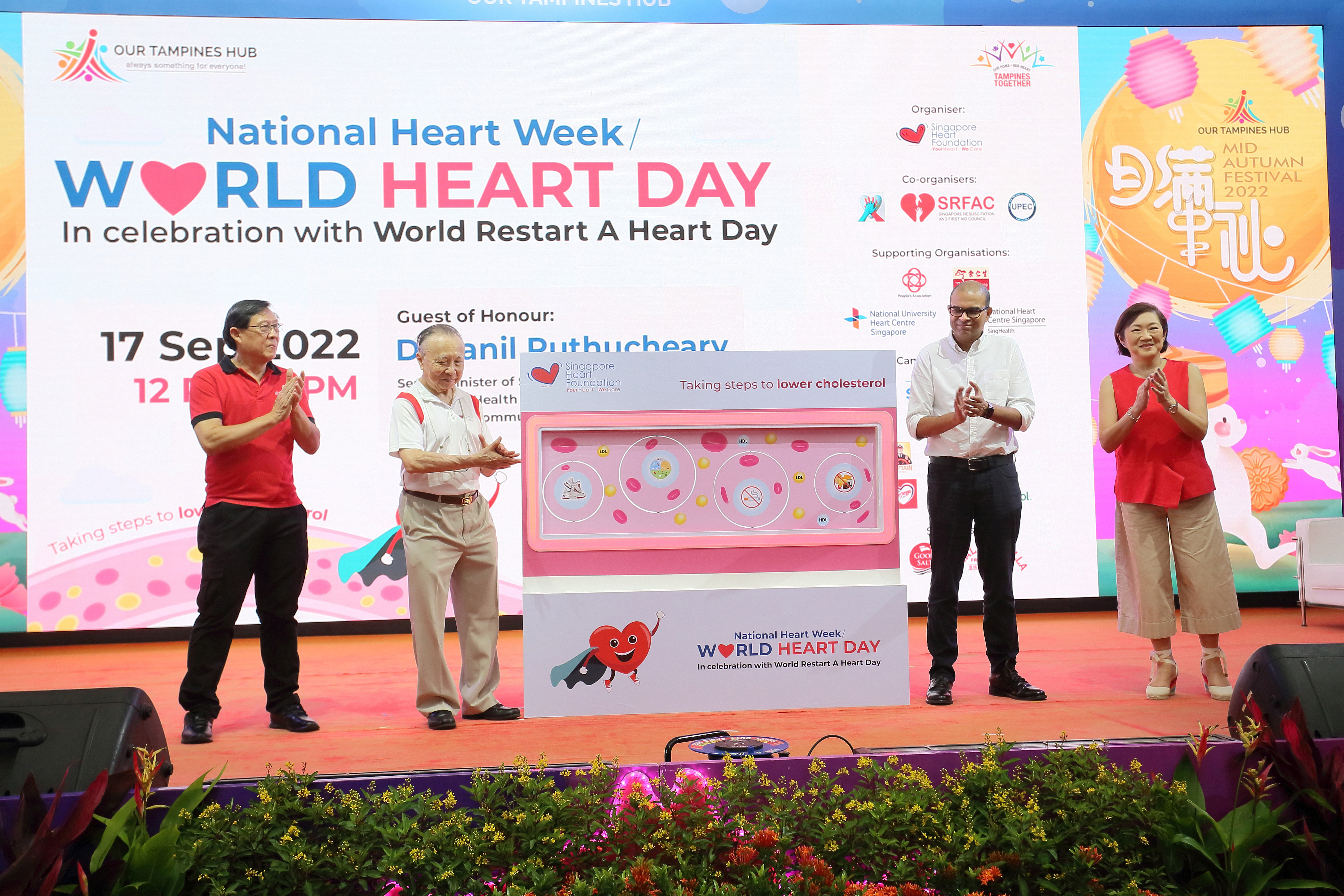 "I used ♥ to: educate Singaporeans to take steps to lower their blood cholesterol "
In the last decade, the prevalence of high blood cholesterol has seen an alarming increase in Singapore, from 25.2% in 2010 to 39.1% in 2020. It is the second most common risk factor for cardiovascular disease (CVD) and a silent killer with no warning signs. Set against this backdrop, National Heart Week/World Heart Day (NHW/WHD) 2022 was aimed at activating the public to take steps to lower cholesterol.
The two-day community roadshow, held on 17 and 18 Sep, kickstarted with a drumming performance by the Healthy Heart Support Group - a peer support group for heart clients undergoing cardiac rehabilitation at SHF's Heart Wellness Centres. Dr Janil Puthucheary, Senior Minister of State, Ministry of Health & Ministry of Communications, and Information graced the event as the Guest of Honour.
Basic Health Check
Highlighting the importance to go for regular health screening, a basic health check was conducted in the morning of 18 Sep to check for warning signs for cardiovascular disease through Blood Pressure measurement and Body Mass Index (BMI). Following a health check, on-site nurses provided advice on follow-up actions if a high reading was detected.
CPR+AED Certificate Course (Blended Learning)
Sudden cardiac arrest can occur at any moment when the heart suddenly stops beating. Recognising the importance of CPR as a lifesaving skill, SHF organised two sessions of free CPR + AED Certification Course (Blended Learning) with the aim to equip more members of the public with the necessary life-saving knowledge and skills. At the end of the session, participants were awarded a CPR+AED certification with two years validity accredited by the Singapore Resuscitation and First Aid Council.
Other Activities
Besides basic health check and free CPR+AED certification course (blended learning), there were an array of health talks (e.g Debunking Cholesterol Myths, Atrial Fibrillation etc) as well as fitness activities with various types of intensity from lower intensity exercise like Resistance Band to moderate-intensity exercises such as light stick dance party and k-kardio dance.
Not forgetting that stress is a risk factor for cvd, a moss terrarium workshop, where participants spent a relaxing hour creating and designing their own terrarium.
The event also featured exhibition booths from educational nutrition games like identifying the good and bad fats to sponsors and external vendors featuring heart-healthy products and related services.
Captain Hugo Returns
In line with our campaign theme, SHF's award-winning online game takes on a cholesterol focus to educate and motivate Singaporeans to care for their hearts. Special challenges, double points boosters and prizes await! The heart health game is available for play on captainhugo.myheart.org.sg till 30 Sep 2023.
Collaboration with Shopee
With the intent to further educate and engage online consumers, SHF collaborated with e-commerce giant Shopee Singapore in a Care for Your Heart campaign from 17 Sep to 12 Oct 2022 to bring about behavioral change by making healthy eating more convenient and accessible for Singaporeans.
The Care for Your Heart campaign presented a list of cholesterol-friendly foods, carefully curated by SHF Dietitian, to make healthy eating more convenient and accessible for Singaporeans striving to improve their blood cholesterol profile.
Go Red for World Heart Day
On 29 September, 24 iconic landmarks in Singapore lit up in a symbolic red in support of World Heart Day. The public also joined the movement through a social media photo contest to raise awareness of CVD.
We would like to thank all our sponsors, exhibitors and building owners who came together to reinforce the message of lowering blood cholesterol for better heart health!